Learn How to Self Treat Trigger Point Pains at Home
Could Trigger Points be the Root Cause of Your Pain?
In this video back pain expert, Jesse Cannone, demonstrates  how you can self treat your trigger point pains at home. It is extremely easy to self treat your trigger points from home with the Trigger Point Self-Treatment System. This is the easiest way to get deep-pressure massage in the comfort of your own home.
If you suffer from sciatica or feel like you have sciatica and have tried many different treatments and nothing seems to work it is because  often times it is not really sciatica, but it's referred pain that you are experiencing. This means that trigger points typically send their pain to some other place in the body, in this case, you may have a trigger point in your gluetals or lower back that is sending pain to the outside of your leg.
Trigger points are tiny contraction knots in our muscles and tissues and are the primary cause of pain 75% of the time, and is usually  a factor in almost every painful condition.
With the Trigger Point Self-Treatment System, you are in complete control of releasing your trigger points. By using your body weight, you effortlessly remove the knots  while completely relaxing into the treatment platform. In less than ten minutes per day, you can find lasting relief.
The system was created by a board-certified neurological chiropractor who was seeking relief for his own disabling lower-back and chronic shoulder-arm pain.  The Trigger Points Self-Treatment System will allow you to pressure massage your trigger points in the comfort of your own home and as often as necessary.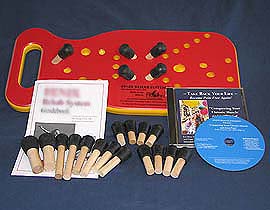 If you have any questions or feedback regarding Trigger Points or Trigger Point Therapy, please leave a comment below…