Lose the Back Pain Success Stories
Considering the Lose the Back Pain System?
Listen in on just a few success stories given by people who have tried and found relief with the "Lose the Back Pain" system. Whether you are 25 or 65, you can find relief from your back pain. Whether you are suffering from sciatica, lower back pain, upper back pain, neck pain and more, hear how these people found lasting relief with the Lose the Back Pain system.  The Lose the Back Pain System focuses primarily on muscle imbalances and how these imbalanced muscles can pull your body out of alignment, thus causing pain.
It is most likely that you have not heard of muscle imbalances. Basically, a muscle imbalance occurs when you have overdeveloped and tight muscles in one area of your body while the opposing muscles are weak and stretched out of their normal position. Because we all perform routine tasks such as going to work, playing sports and doing other activities that you enjoy, these imbalances can take place anywhere in the body.
Why have we had so much success with the Lose the Back Pain system?
Because it focuses on the causes of back pain, the muscle imbalances, and not merely the symptoms. Most back pain treatments fail because they only focus on the symptoms, or the pain. Symptoms of course are just red flags of a bigger problem . If  you are feeling even minor back pain, you should not ignore it, because your body is trying to tell you that something is not right.
The Lose The Back Pain System will include:
2 Lose the Back Pain videos
3 Lose the Back Pain Audio CD's
117 pg Lose the Back Pain Reference Manual
Your Personal Lose the Back Workbook
Unlimited Personal Support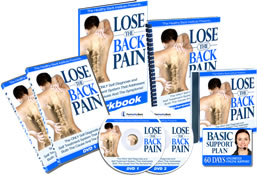 If you too have any feedback about the Lose The Back Pain system, please leave a comment below.