Spinal Decompression for Back Pain Relief
If you are suffering from any type of back or neck pain, one of the most important treatments you can do is spinal decompression.
Jesse Cannone, back pain specialist, reviews a few different spinal decompression devices that are available.  Spinal decompression reduces the compression on your vertebrae and discs in  your spine. Over time due to gravity, muscle imbalances and everyday life, a lot of pressure is put on your vertebrae and discs in your spine.  All the muscles in the torso tighten up and squish your vertebrae and the discs in between them which over time causes unnecessary wear and tear.  One of the things you can do is to decompress the tension on your spine and there are many ways you can do this.
Even if you don't have back pain, spinal decompression is a wonderful tool for general well being.
A few of the products Jesse reviews are the portable spinal decompression device, the Nubax® Trio, and an inversion table.  Spinal decompression is one of the most important treatments to target the physical aspect of treating your pain.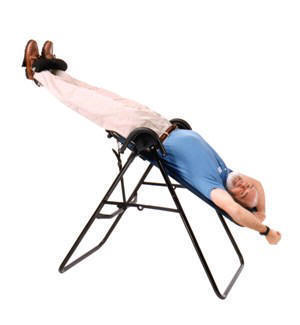 But one must remember that it is only one of the three areas of a comprehensive treatment plan. The three areas are your mind (negative emotions, negative energy)  the body (muscle imbalances, spinal decompression, trigger points) and lastly your diet (nutrition and hydration). These three key areas you want to focus on.
If you have questions or feedback on spinal decompression, please leave a comment below…