Back Pain Inversion Table—The Healthy Alternative
Can a Back Pain Inversion Table Really Take Your Pain Away? The Answer is YES!
Spinal traction is a type of pulling force that is intended to stretch muscles and ligaments within the spine and to separate the vertebrae. It is often used by physical therapists and chiropractors in combination with other treatments to help ease pain in the lower back, and is commonly used for treating sciatica problems in particular.
Inversion therapy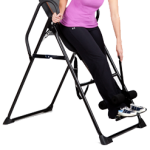 This type of traction was first used during ancient times and involves hanging upside down to reduce pressure on the patient's spine. Today, the back pain inversion table is a popular device used by many people to alleviate back pain. The patient's own body weight is used to stretch the spine during the inversion process. For people who feel more comfortable using a partial inversion, these inversion tables can be adjusted and tilted to different angles, even as little as  20 – 30 degrees.
As patients become adjusted to the treatments, the slant can easily be increased to as much as 60 degrees for a better stretch. There is also a psychological component to this treatment, since if they feel insecure in the optimum inverted position, the muscles will contract, which will defeat the purpose of the therapy.
Adjusting to the treatment
The length of time that patients spend using the inversion table for back pain is correlated with the particular angles being used. They will ordinarily begin by inverting for just a few short minutes at a lesser angle, then work up to ten-minute durations at steeper angles as they become adjusted to the process.
As the back becomes stretched, pressure within the intervertebral disks and nerve roots is reduced and back pain is relieved. This treatment is also beneficial for individuals with bad posture because it helps to elongate the muscles. Medical professionals often rely on the inversion table to increase blood flow to the brain to boost mental alertness.
Before using an inversion table
It is advisable to talk with your doctor before you begin using this device, and note that they are not intended for individuals with circulatory problems, osteoporosis, coronary, high blood pressure, or other related conditions. Also, it has not yet been scientifically proven to provide long-term benefits. However, it is generally accepted as a means of providing temporary relief for people living with chronic pain in the lower back.
There are many ways to relieve back pain that do not involve a doctor's visit or expensive prescription pain medications. Consider using a back pain inversion table and you may even be able to prevent your back pain before it even occurs.